I have recently had the chance to visit the Bugatti showroom in London and was lucky enough to be able to take a closer look at the Bugatti they were offering for sale. As I had already known from numerous pictures posted on Instagram, it was not any "ordinary" Veyron (as if this word could ever be used in this context), but one of the extremely limited Grand Sport (GS) Vitesse World Record Cars (WRC), of which only eight have been built.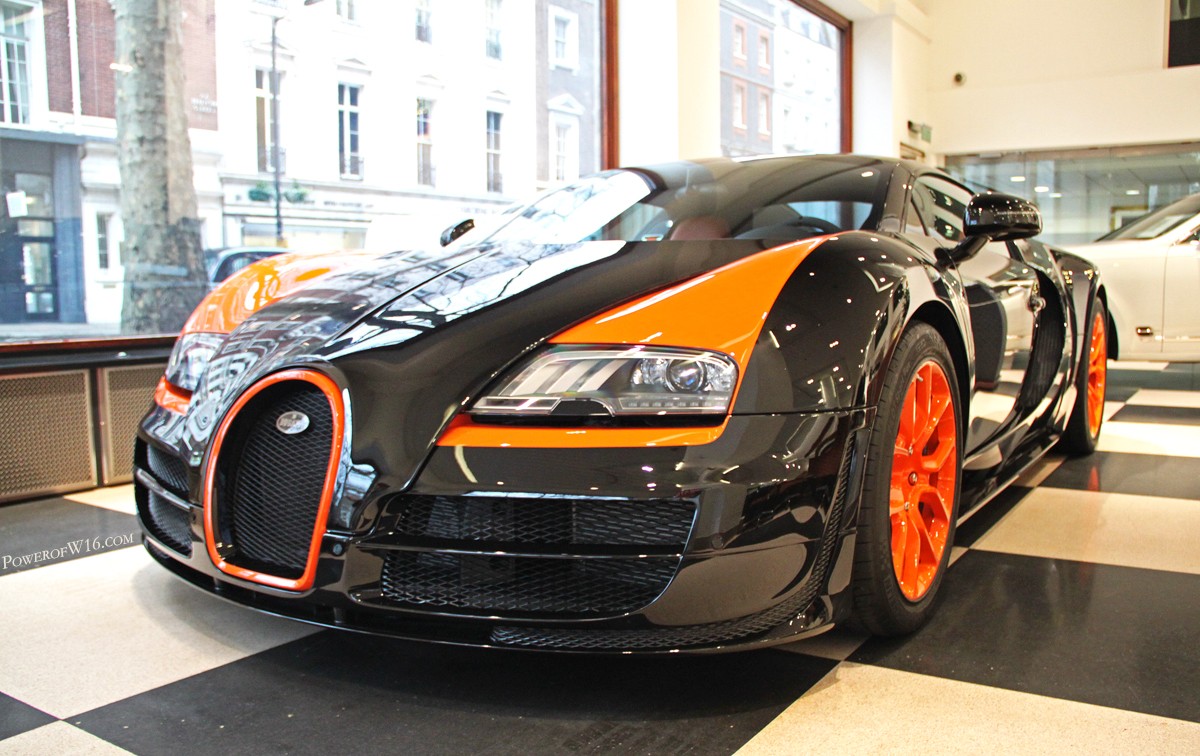 The impressive GS Vitesse WRC inside the Bugatti London showroom.
Picture © PowerofW16.com
The Vitesse is the fastest and most powerful open-top production sports car ever built. In April 2013, Chinese racing driver Anthony Liu reached an officially recorded top speed of 408.84 km/h (254 mph) at Ehra-Lessien. Honouring this achievement, the special edition Veyron Grand Sport Vitesse World Record Car (WRC) was created. As you can see in the pictures, it features a body in orange (a colour called 'Arancia Mira') and black exposed carbon fibre, orange wheels and accents in the interior.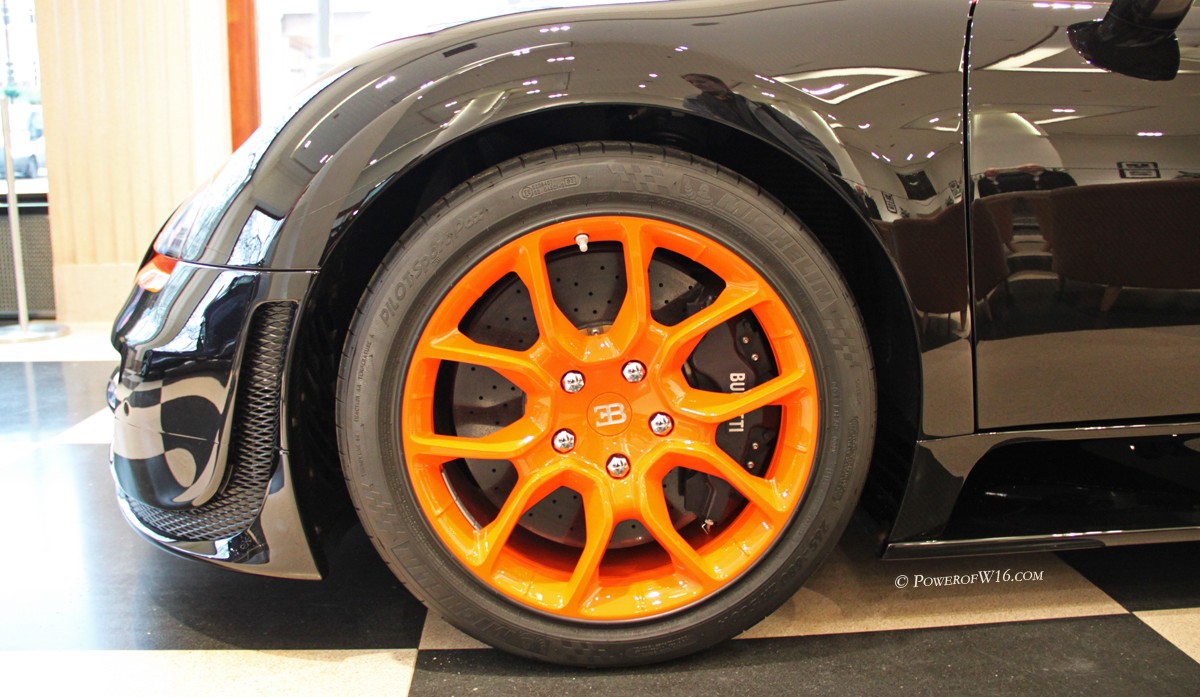 Picture © PowerofW16.com
The particular car offered for sale in London had been sold new by Bugatti London in October 2013 and stayed with its first owner in the northern part of the UK until recently. The car is in as-new condition, having run less than 1,900 km (1,180 miles), and offered for sale at a price of 1,795,000 GBP (around 2,360,000 € or 2,580,000 US $).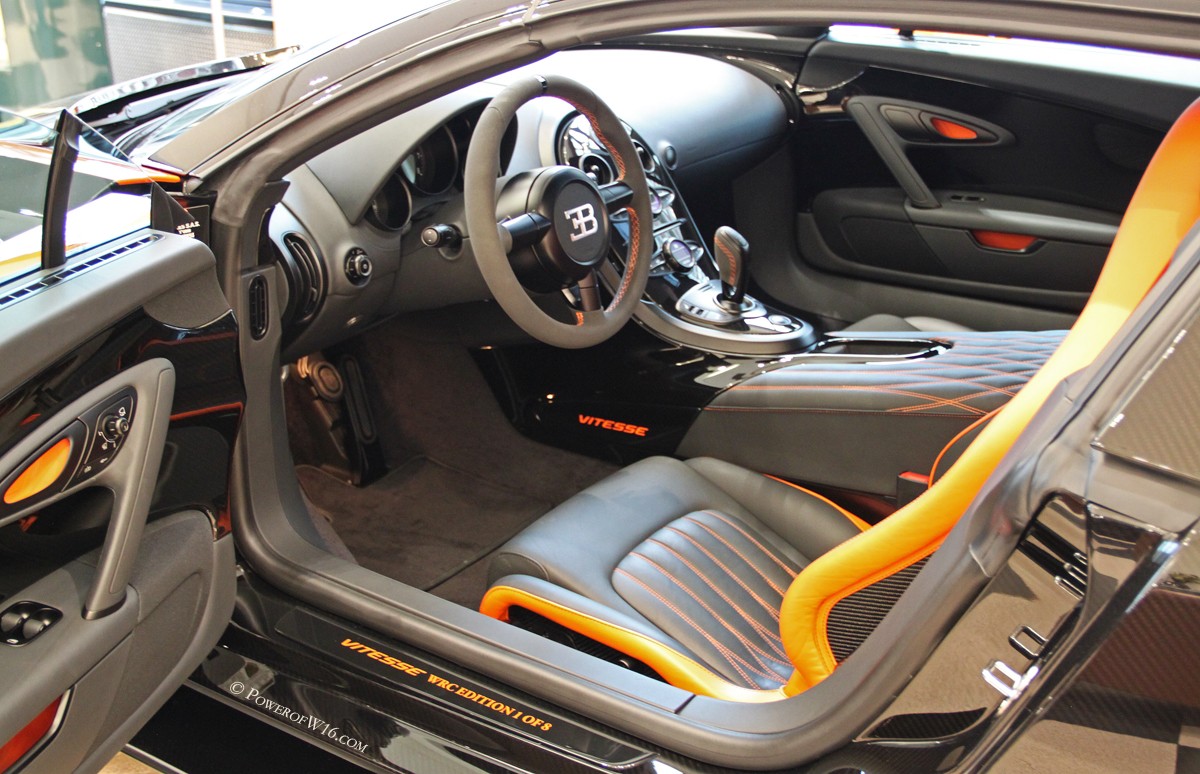 The stunning interior of the WRC – note the orange details and the special writing on the door sill.
Picture © PowerofW16.com
Of course, I would advise anyone with sufficient financial resources to acquire this exceptional car since it is very rare that one of these limited World Record editions ever come to market (one Super Sport World Record Car was sold around two years ago by Deals on Wheels in Dubai). However, this particular Vitesse was sold within only a week to a very lucky new owner.
The black Bugatti logo is reserved exclusively to the World Record editions.
Picture © PowerofW16.com
Please do not hesitate to get in touch with me and/or connect via the following channels:
Best regards,
Thomas